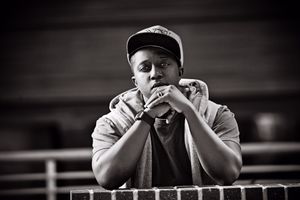 Bio
From the rough streets of Cleveland to the U.S. military to the top of the Christian music charts, Tyrone Crawford's story reads like a novel, full of passionate struggle, steadfast faith, and spiritual transformation. 
Today, Tyrone is a nationally known Christian rapper who captivates audiences with his one-of-a-kind sound, driving beats, and powerful words. When he's performing, he's giving 110% to God, stirring the crowd with inspirational lyrics and boundless energy. Somewhere in the midst of this joyful frenzy he's also hoping that at least one person will leave the show changed by his music. That's why he's here. 
As a teenager, Tyrone was that person in need of a lifeline. His mother's drug addiction and his father's absence made risky situations and dangerous people a part of normal life. By age 18, he was selling drugs and hanging out with drug dealers, coming within inches of choosing that path for himself. 
Besides drugs and violence, adolescence exposed Tyrone to another force: homegrown rap music. He began recording with neighborhood friends as a young teen, mimicking the rappers he admired with rhymes that degraded women and glorified a lavish lifestyle -- writing songs about money he didn't have and cars he couldn't afford. 
When Tyrone's cousin invited him to a church youth event, he wasn't expecting much, but the experience changed everything. That night, he gave his life to Christ and began making dramatic changes to his own path, diving head-first into the New Testament with the help of loving mentors who helped shape him into the man he is today. 
Tyrone's love of music and performing soon collided with his love for God's word. At age 18, a mentor took him to a K-Nine concert; he stood in the front row and matched the Christian rapper lyric-for-lyric. Tyrone caught the artist's manager's eye and was invited to join K-Nine on tour as his hype man. On the road, a whole new world opened up for Tyrone. Suddenly, he saw that a hungry audience was out there, ready to be inspired. His stint with the tour ended a year later, but Tyrone wasn't finished. He had found his voice, his mission, and a glimpse into his future. 
"When I started to see that I could have another life, outside of where I was at the time, I knew that's what I wanted to do," said Tyrone. "When I get on stage now, I want to plant and water seeds and I want lives to be changed. That's my ultimate goal. If you're not getting the message in my music, I'm not doing my job. I want people to leave saying 'this guy was preaching in his music.'" 
To date, Tyrone has released five albums, including "WAR: Worship And Rap (Mix of the Cultures)" which charted #1 Best Selling Christian Rap CD as well as in the top 100 of Gospel CDs on Amazon's music charts.  In addition to working with national recording artist K-nine, he has collaborated with other National artists including Mr. Del, KDrama, Young Noah and others. 
Tyrone uses the talents, gifts, and success God has given him to influence and inspire people on stage and off. Contributions from his touring supported 14 families in need, and he engages with several non-profit awareness and human services organizations to be a force for good on their behalf. As an active duty member of the United States Air Force, Tyrone currently calls Colorado Springs, Colorado home. He finds his greatest support from his family: his brilliant wife/business manager and two incredible children. 
"Trust Christ. Aim High. Do YOU." - Tyrone Crawford